A fingerprint necklace is a perfect way to keep the sentiment of your loved ones close with an elegant, handmade talisman. Carrying the unique memento of your children and husband's love is like carrying a part of them with you throughout the day, with their touch always within arm's reach.
The Miani & Stone Imprint Series has been engineered to stack, with deliberate care ensuring multiple imprints nest together cleverly. This craftsmanship ethos, coming from a historically bridal focussed jewellery boutique on the Northern Beaches of Sydney, is the hallmark of the Imprint Series.
How are the fingerprint necklaces made?
First, your Imprint Kit is sent to you. Within our beautiful packaging, you will find:
Your instructions;
Three balls of wax, in separate vials;
A pre-paid return label;
Your customer form, where you can specify which Imprint is which, and any initials to be hammer engraved into the back of the Imprint; and
A link to our step-by-step video walkthrough on getting the best prints.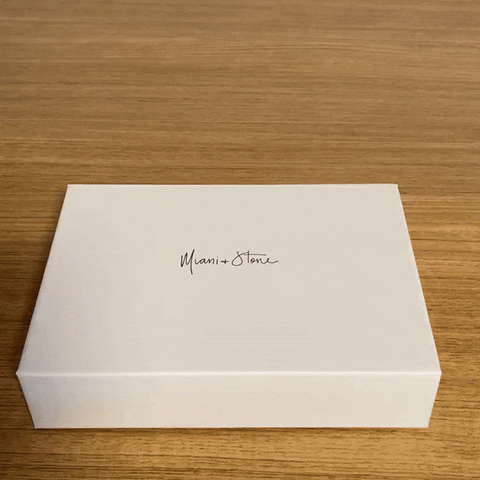 For children over the age of 12 months, it can be a fun activity warming up the wax and imprinting their finger. However, for children under 12 months, they typically haven't yet developed the defined fingerprint ridges needed yet. However, when you purchase an Imprint Series necklace, you can let us know when their fingerprints have developed sufficiently, and we will send you out an Imprint Kit so you can capture their specialness into your family keepsake.
We are always happy to chat about any hesitations with getting the best print on the wax. 
After the imprints have been made, seal them away in the supplied vials and slip the completed Imprint Kit back into the postage bag, use the included & pre-paid return label and pop it into the post.
After your Imprint Kit is received by Miani & Stone
We first check the Imprints to make sure that the best print has been captured. While we look to turn each wax into a silver or gold Imprint, we ensure that any undesired blemish or imperfection is able to be removed, which is usually done post imbuing the print into the metal of your choice.
We will also check your written instructions to be clear on which initials to hammer engrave into which Imprint. The hammer engraving is a touch we insist on, and feel it makes your sentimental talisman just that little bit more special. 
Finally, we will think about how to best stack your necklace or bracelet. Care goes into the balance of weight, the edging and the thickness of each Imprint, so that the goal of a beautifully sitting necklace made for living in is achieved.
When we are all done, we send you your finished product
The effort is well worth it!
Here are some of our delighted customer's messages to us on receiving their Imprint Series:
"OMG my necklace arrived today and I'm so in love!!! It's even more beautiful than I was expecting, thank you so much!!!" -Jessica
"Thank you so much for the beautiful imprints! Got them earlier in the week and the boys told me never to take them off! They are stoked that I get to wear their imprints all day, everyday" -Alex
"Oh my goodness, my necklace arrived yesterday! I love, love, love, love it! It is just so special! You are amazing!" -Bec